During the Covid-19 pandemic, which continues to be of grave concern in Thailand, Beauty Clinics were heavily impacted by all three waves of infection, and the sector contracted by 50% (source: Prachachart Turakij)
In these conditions, offline services alone are inadequate to earn revenue. Many clinics now provide Telemedicine services at a time of social distancing, so that customers can consult doctors on their facial care and skin care issues. Despite not meeting in person, the long-term trend of supplying Telemedicine services through online channels may be the opportunity of the future for Beauty Clinics. Especially in China, where Telemedicine services segment is forecast to grow 164% in the next 5 years, (Source: PhDMedia) as well as Thailand.
Looking at feasible options in the midst of a crisis, the tools to help make this opportunity a reality are no less significant. No tool can better meet this need than LINE, a hub connecting millions of Thais, with an adaptable user database to help Beauty Clinics to thrive securely in business under the current limitations.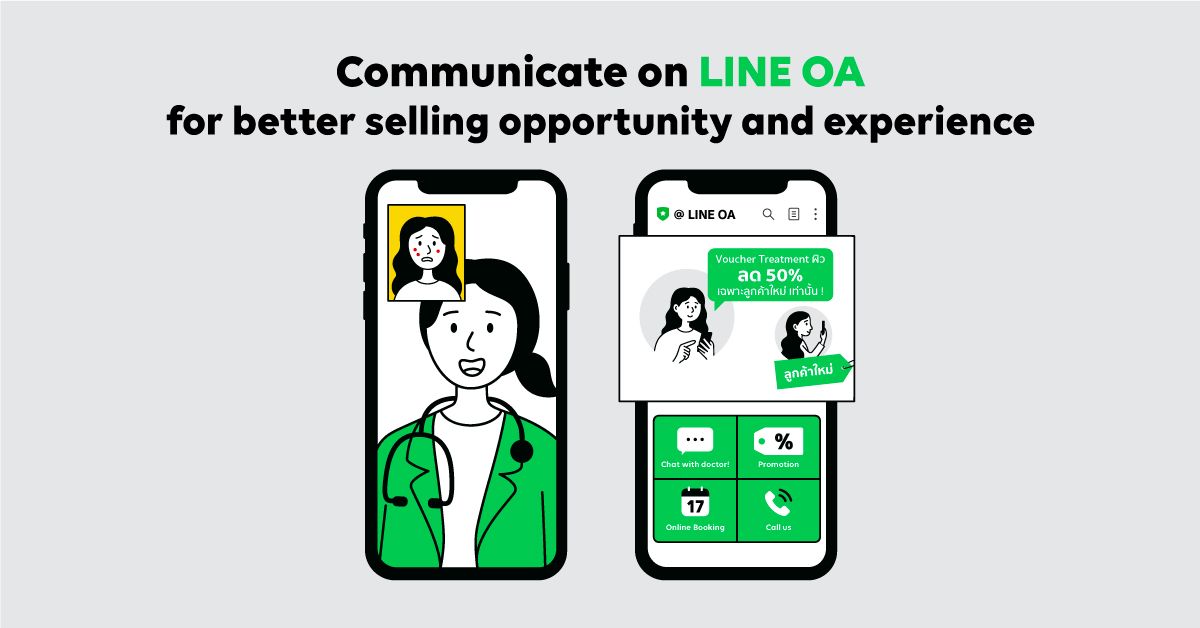 Communicate on LINE OA for better selling opportunity and experience
Creating more business opportunities under the limitations becomes ever clearer with greater volumes of customer data. LINE OA, with its over 50 million users, is a key tool in unlocking the benefits of customer databases to design market strategies. 380,000 LINE OA accounts have been opened by health and beauty brands in Thailand to contact customers and tailor their business strategies to better meet customers' needs, clearly confirming the efficiency of LINE OA in the health and beauty segment.
With sufficient customer data in hand, brands can start working with the huge variety of strategies on LINE OA. Taking the Telemedicine trend, as Video Calls on LINE have been boosted by 400% (source: LINE), Connect LINE OA with API and the Video Call to provide health and beauty consultations from healthcare professionals. This reassures customers and addresses their need for urgent treatment under limitations. The reassurance and convenience will continue in the future, after the crisis is over. Customers not willing to make Video Calls can have a personal chat with a doctor, which is also an efficient method to service customers.
Besides Telemedicine via video call, LINE OA has a plethora of other techniques to stimulate sales and maintain a customer base. These include sending Broadcast Messages of interesting promotions, perhaps by offering a voucher to redeem for services when the clinic is open normally. As well as getting bookings for promotions, the clinic can use customer information in Broadcast Messages for Re-Targeting to choose appropriate content or promotions for each customer in the future. Although beauty clinics are currently limited in their opening hours due to the COVID-19 pandemic, releases of skin-care products can be adapted for Re-Targeting according to customer preference data from Broadcast Message. Customers' selections of clinic products are delivered for use at home, with the appropriate skincare content for each customer. It may be a Video Tutorial on using the Clinic's products, addressing their concerns. This can also be boosted with LINE Ads Platform on Re-Targeting. Build a Look-a-Like Audience on LAP to send ads to the Clinic's location, attracting potential new customers within a certain radius.
LINE OA also helps Beauty Clinics to give a better experience to customers with the Chat Tag feature, categorizing customers into New, Regular and Top Spenders, or dividing them according to treatment category to communicate promotions. LINE OA also upgrades booking procedures to be simpler with a Rich Menu giving customers timeslot options, connecting with API to make the appointment. LINE OA has become the hub connecting the Clinic's services.
Or you may prefer a Chatbot to answer customers' preliminary queries and give them the best experience, or CRM systems such as aftersales inquiries, and loyalty points from courses of skincare products can also join the Rich Menu.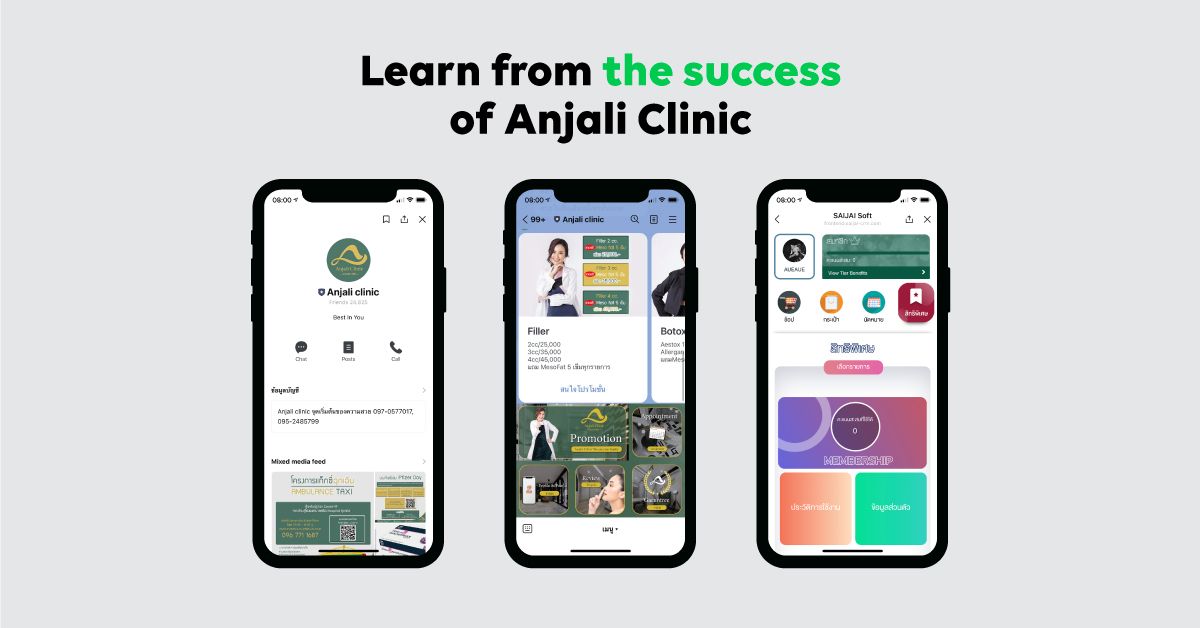 Learn from the success of Anjali Clinic
Anjali Clinic is a Beauty Clinic which has successfully deployed LINE OA strategies gaining them 24,000 followers. The company took a first step of gaining followers with promotions for new customers on Broadcast Messages, to give followers privileges leading to Re-Targeting, and offering many promotions to select according to preference. Anjali Clinic has designed a Rich Menu enabling service bookings directly with understanding of customer usage, and also has prominent CRM which is efficient and easy to use. Customers can put their preferred promotions in a shopping cart or collect loyalty points for exclusive promotions from Anjali Clinic.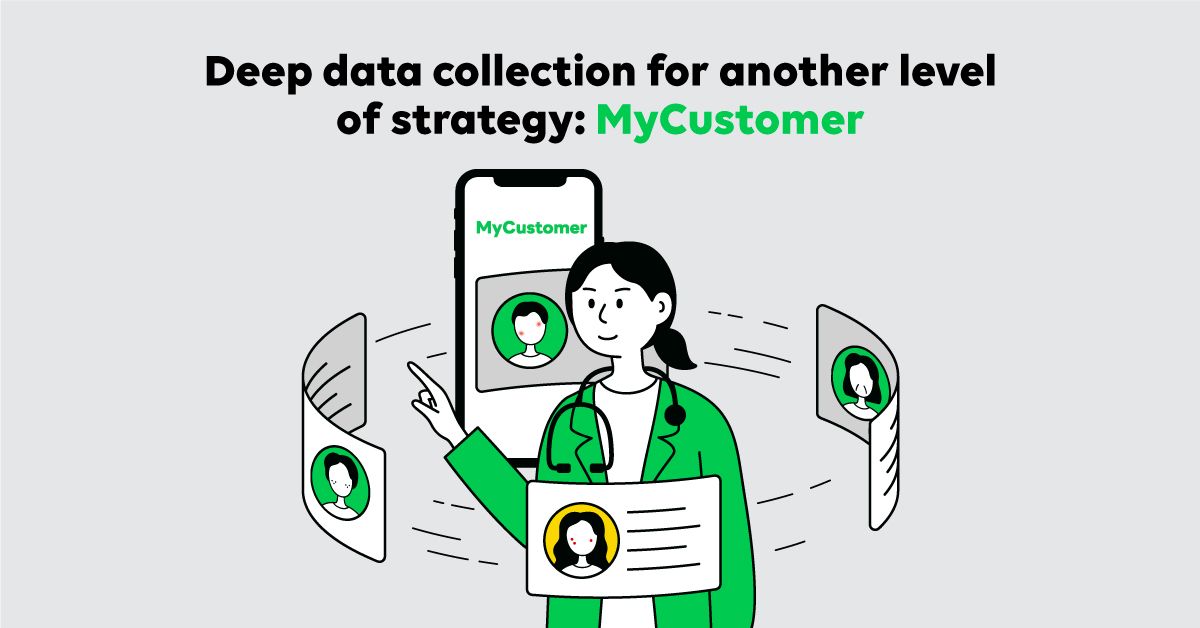 Deep data collection for another level of strategy: MyCustomer
The current market is driven primarily by data, which gives brands understanding of customer needs to deliver the best experience to consumers. The key for clear and accurate data is MyCustomer, a 1st Party Data Storage Solution. This delivers key marketing insights into consumers' lifestyles, behaviour and preferences. Having gained the data, it can be used for efficient Segmentation Re-Targeting or even Personalized Marketing. MyCustomer is also designed to work seamlessly with LINE OA both in the storefront and the back office, taking marketing strategies with LINE to the next level.
Applying MyCustomer to the Beauty Clinic business, the Clinic can adjust a range of features on MyCustomer covering each of the following parts of service provision:
Store data on LINE OA, upload database from Offline channels
Marketing analytics can be very detailed as datasets are merged, such as personal drug allergy data merged with courses of treatment previously selected by customers. This can inform design of promotions and treatment methods which understand customers' needs.
Use Greeting Message and Default Rich Menu for customers to choose their preferences
The Clinic can design a Segmented Rich Menu to manage customer groups with the Action Tag feature. This distinguishes categories of service attracting interest, or the customer's own skin conditions.
Design Surveys as deep data dives for maximum understanding of customers
The Beauty Clinic may design a variety of questionnaires concerning skincare issues encountered by customers, or the services which interest them. As the customer's needs are more greatly acknowledged, communications with the customer become more Personalized. Customers can continuously adjust their preferences in surveys. Data on MyCustomer are also fresh and accurate with regular updates.
Categorize customers with Audience Tags
Clinics are helped to send out news of promotions, courses or products to remedy the issues for which customers have sought personal treatment, thereby winning over customers and closing sales more easily.
The Beauty Clinic business may be difficult at the moment, but every crisis leads to opportunities. With LINE as a tool assisting marketing, methods can be turned around into efficient strategies during the crisis. Although strategies for sales and maintaining the customer base should be improved, whenever the situation returns to normal, these customer data will enable Beauty Clinics to thrive and grow.
Sources:
https://www.prachachat.net/marketing/news-695624