Constant technological progress has given consumers more alternatives when purchasing products and services. Lifestyles have been transformed to be convenient and fast, breeding familiarity and the advent of the Lazy Customer who is addicted to convenience. As a result, many brands are seeking ways to tweak their marketing strategies to access this customer segment. In particular, the Covid-19 pandemic has forced office folk to Work from Home for a while now, exacerbating existing laziness.
One marketing strategy tapping Lazy Customer behaviour is "SLOTH", which comprises:
· Speed: Being quick and not wasting time
· Lean: Cutting out complicated procedures
· Enjoy: Fun, interesting and inspiring
· Convenient: Meeting requirements
· Happy: Creating happiness, solving life problems
From these strategies above, it can be noticed that the brand must deliver a satisfactory experience which best meets customers' needs, for the Lazy Customer to choose their products or services without switching, among many other alternatives. An effective marketing strategy depends on having efficient tools which are easy to access, with everything managed inside LINE. This is a suitable alternative platform which has transformed marketing strategies to suit a diverse range of products and services. It is an all-in-one solution. Everything that customer needs is contained within the one app.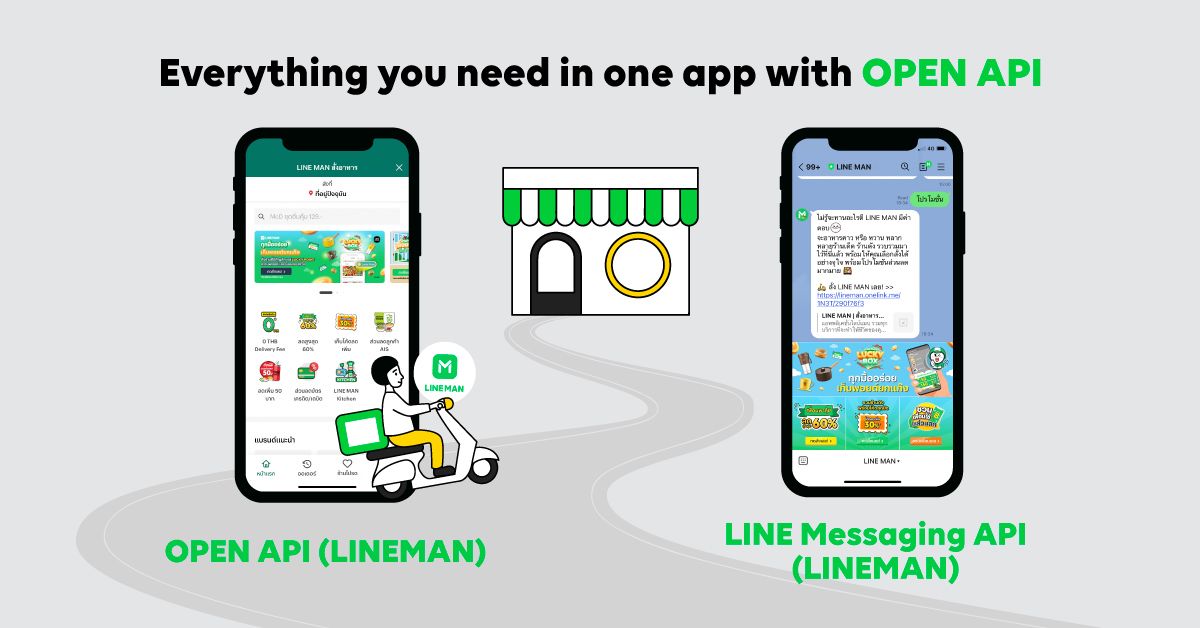 Everything you need in one app with OPEN API
A key feature of LINE is OPEN API, which makes everything easy, all-in-one in the same application. Customers don't have to open many screens in a complicated fashion. An upgraded experience is given by various tools which plug-in to LINE. As an example, the LINE Frontend Framework (LIFF) displays the outcomes of Web Applications in the LINE OA chat room, or even shares them with other friends' chats in LINE. Or there is LINE Messaging API, which has the key feature of answering posers, to better meet the needs of the Lazy Customer segment. This is because it can answer customers immediately with no need to wait for the admin, or it can supply an interesting new tactic. For instance, it can send a product through a broadcast message in the format of an image displaying with a Call to Action button for an immediate purchase. There are also many other tools for the brand to choose from, to transform its marketing strategy as appropriate to win over the Lazy Customer segment.
One business sector able to deploy OPEN API on LINE efficiently is the restaurant sector. Some 81% of Thai Lazy Customers don't like to queue, and another 70% don't like to cook for themselves. (Source: Thumbsup). This is a golden opportunity for restaurants to deploy LINE as a tool to boost sales. It can be through the LINEMAN service on LINE which connects directly with OPEN API to the LINEMAN app with LINE Frontend Framework (LIFF). Or, they can choose to look at interesting promotions through the LINEMAN LINE OA, so everything is closed in the app. The Lazy Customer doesn't have to come in and out of many screens, get into a queue, or cook for themselves anymore. They cut down on contact and reduce the risk of meeting other people, which is a risk of infection during the Covid-19 pandemic.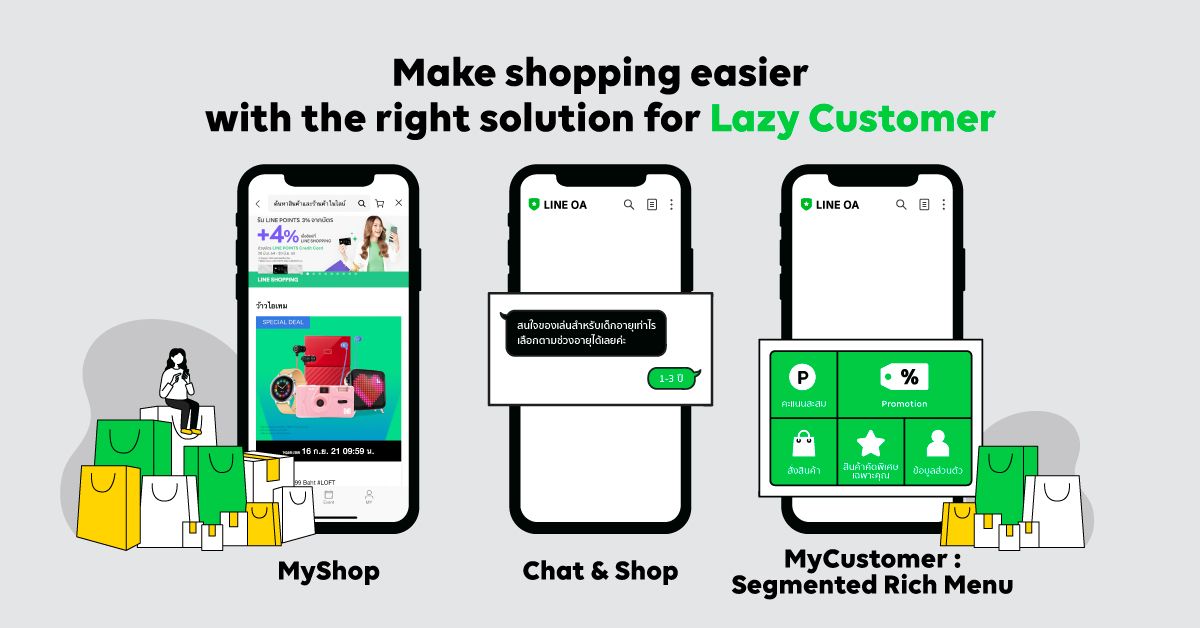 Make shopping easier with the right solution for Lazy Customer
Another behavior of the Thai Lazy Customer is a dislike of going out shopping, which has a prevalence of 64% (Source: Thumbsup). This is also an opportunity for brands to deliver products directly for them to browse in the MyShop feature which connects an online store to LINE OA and e-commerce platforms such as LINE Shopping. This enables easy shopping at your fingertips to win over Slow Life customers, who don't need to go out. They can get the products they need immediately.
An outstanding feature of MyShop is how it can act as an intermediary for customers to chat with the shop directly through Chat & Shop. The conversation is linked to the store's LINE OA to talk through LINE Auto-Reply, which caters to those who don't like to talk with strangers. It can reply to customers' basic queries in real time, or forward the customer to chat with an admin when a more specific response is required, upgrading convenience and satisfaction to another level.
A LINE OA connected to MyShop also helps the brand to make its marketing more robust. If a customer makes inquiries about the shop, whether through Chat & Shop or directly through LINE OA, the brand can attach a Chat Tag to segment customer categories. Information obtained from the chat tag can then be used for retargeting promotions or broadcast messages which appeal to customers. They don't have to waste time looking for promotions which are right for them, because everything they need is right there on the screen.
To make the customer experience even more perfect, the brand can adapt MyCustomer to better cope with the demands of the Lazy Customer with the Survey feature. Insight can be sought to think up promotions which understand customers. Or, a Segmented Rich Menu can be designed which contains everything the Lazy Customer needs, personalized on the LINE OA screen to give them superior satisfaction.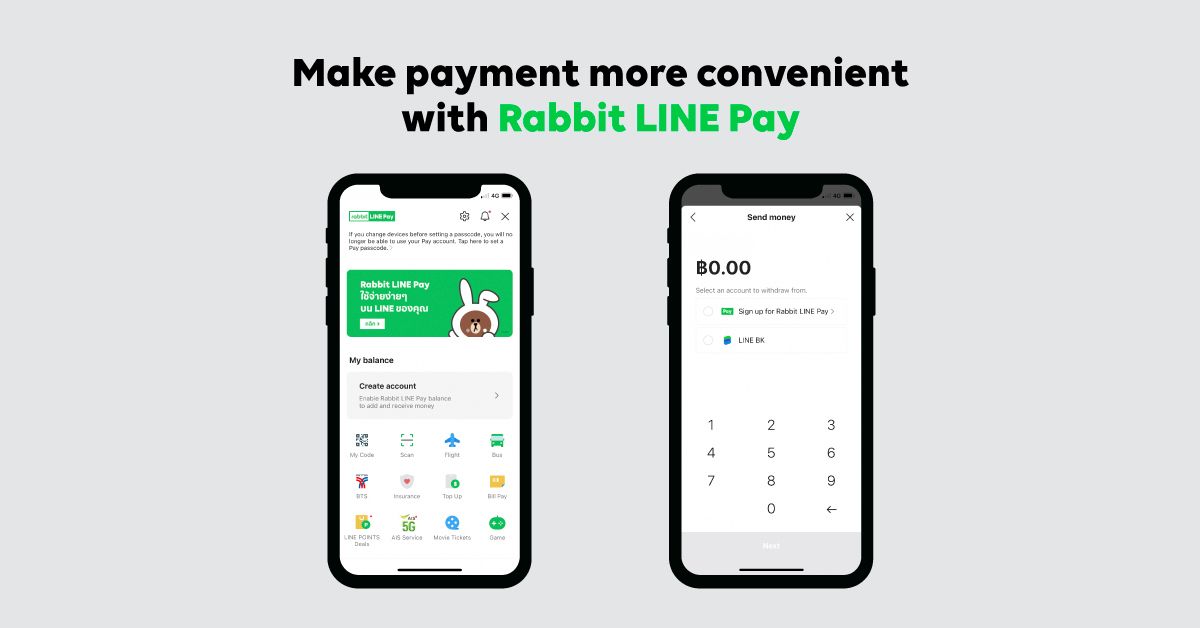 Make payment more convenient with Rabbit LINE Pay
When purchasing products and services, a crucial item which cannot avoid mention is making the payment. LINE connects with an API to Rabbit LINE Pay, making payments even more easy and convenient for the Lazy Customer lifestyle. Rabbit LINE Pay Is like a wallet to make spending more convenient. It is possible to attach the account to payment services for shops or many other services. With just the LINE app, a range of financial transactions become available, including shopping through services on LINE, everyday products and even utility payments, with no need to memorize account numbers or credit/debit card numbers. Just top up Rabbit LINE Pay and there will also be privileges attached to products and services whenever Rabbit LINE Pay is used.
The thing which really takes the convenience of Rabbit LINE Pay to the next level is the ability to transfer money from a LINE chat room. This gets rid of opening a bunch of different apps which wastes time and is annoying. With this knowledge, brands can tie their services to Rabbit LINE Pay, to provide convenience to the Lazy Customer which fits in with their lifestyles.
Finally, when consumers save their energy for more important times and they become Lazy Customers, the brand which understands this behavior can change it into opportunities by marketing through efficient tools. They will be the ultimate victors on this battlefield of laziness. LINE is the appropriate tool, being able to complete every lifestyle need in a single application. Brands can transform their strategies to effectively win over Lazy Customers, because they are ready to pay for a quality of life which meets their lifestyle needs.