Adapting and deploying technology for marketing is essential for every business, particularly in an unexpected situation like the COVID-19 pandemic. This has thrown the critical role of the digital world into sharp relief. Whoever reacts faster will be the winner. Among other sectors, real estate is a huge sector which was almost immediately impacted by the consumer slow-down in choosing and spending. Investment during a pandemic was seen as too risky, with more conditions attached to a purchase decision.
Despite the slump, real estate can still recover as long as property remains a consumer necessity. Deferred purchase decisions does not mean demand has disappeared entirely. There is still a significant number of buyers with the necessary wherewithal. Many of them are looking at opportunities to purchase houses and condominiums during COVID, both in prime inner city sites and in the suburbs. Companies or brands can reach these consumers by using a popular platform like LINE as a tool to provide convenient service from the buying decision to after-sales service.
Fishing for customers with LAP marketing
Consumers' lifestyles and work have now been transformed, and the idea of buying a house has returned to favour. A house is where its residents feel safest, especially when many companies are conducting a policy of Work from Home. Even the pandemic abating is a factor driving demand for home ownership.
The secret weapon enabling brands to access new customers is LINE Ads Platform (LAP). This reaches over 50 million users with various placings, giving optimal ad penetration to the target segment. Specifying target segments can be a choice between Core Audiences and Custom Audiences, another strategy for optimal customer targeting. For Core Audiences, the brand can stipulate ad placing, age group, gender, phone OS, or interest in any business sector. For Custom Audiences, the brand can leverage its existing database for maximum advertising benefit, such as website visitors, app users, ad viewers, telephone numbers, email, segments similar to existing customers, or even people reached by the LINE OA blog.
Ads can be displayed in 6 positions: Chat List, LINE Timeline, LINE TODAY, LINE TV, Wallet Tab, and at latest, Openchat, where the ad content can contain preselected campaign objectives to achieve the desired results. For instance: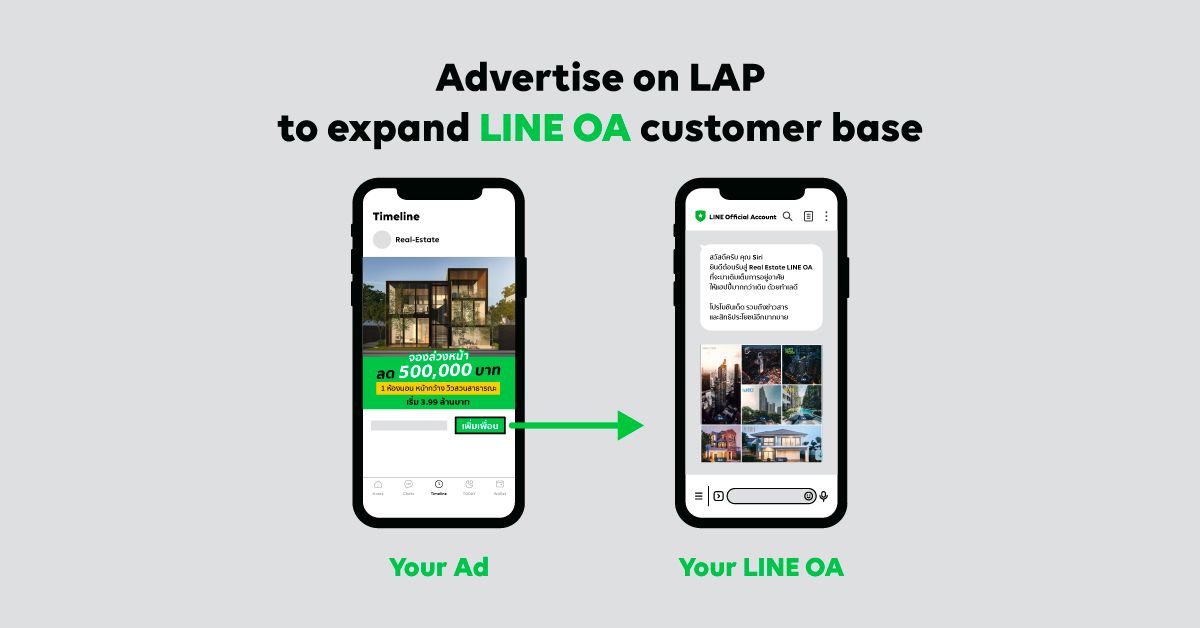 • Add to customers in your LINE OA with the objective to Gain Friends. Adding followers translates to increased selling opportunities. Whether the brand is pushing content on property, promotions or reservation privileges, the communication will reach the customer immediately. It is also good for the subsequent ad spend, because if the target segment is selected by making a Lookalike Audience, the ad is even more effective, and displayed to the segment who have preferences similar to the brand's followers.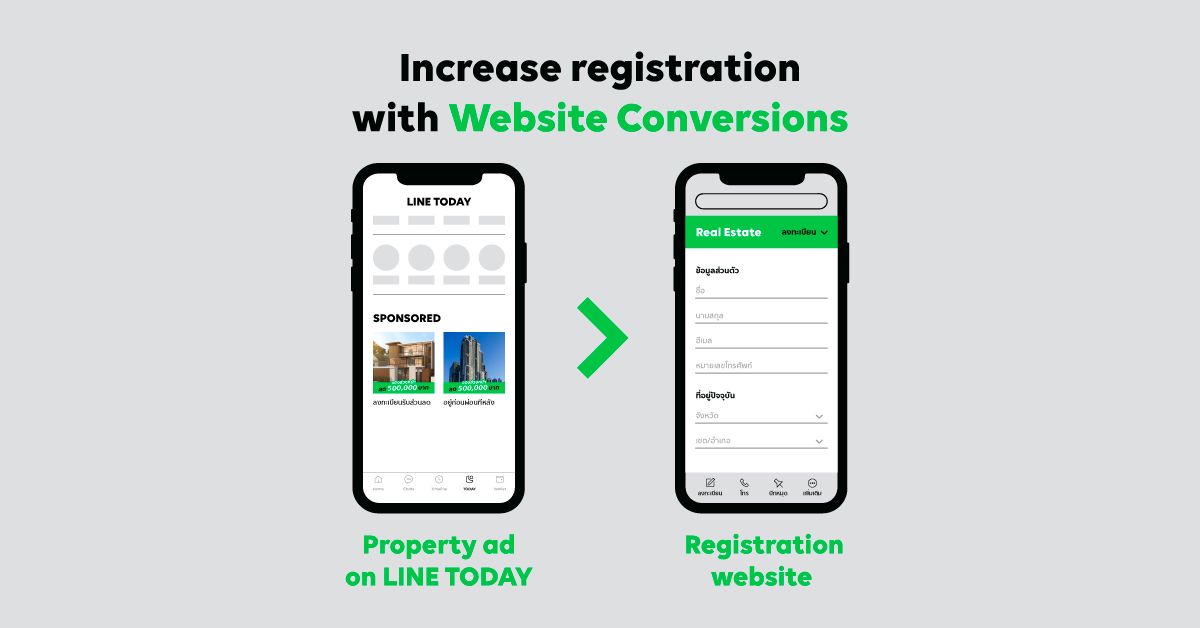 • Increase Website Registrations with the objective of Website Conversions. Mostly, customers interested in buying a house will register to receive information or make an appointment to view the property themselves. If the brand advertises with this objective, it is easier for customers, because just clicking takes then to the registration page immediately, leading to higher registrations. Meanwhile, if a brand specifies a clear desired result, the cost per lead will be reduced. Another tip is for the brand to prepare a variety of advertising content to learn which kind of promotions get the best results, to tailor subsequent ads.
Once a brand has a customer base in hand, future retargeting is not difficult, as most customers in hand are ripe for receiving further information to make a purchase decision. The clearer the target segment is defined, the more sales can be generated.
LINE OA is a complete information service for immediate project reservations
Each brand's real estate business is not usually limited to just one project. Information management must be extremely precise to impress customers, with rapid responses and complete information given. If a previous customer makes enquiries, the brand should be aware of which information or project interested the customer the last time, as each customer has different needs. The property could be a condo with mass transit access, a suburban town home, a detached house in a convenient location, or a town home for the family. If the brand can remember, retargeting is recommended. LINE OA has a range of features the brand can apply for business flexibility.
• Broadcast - Communication is a variable which can stimulate purchase demand if the brand can provide updates on project information - promotions, information on loans, or number of remaining units - without being a nuisance, because the brand can choose to broadcast content only to each customer segment as appropriate.
Broadcast can be in the format of Rich Messages clearly displaying the product brochure, images, prices and promotions, or Rich Video Messages to promote the property with Auto-Play videos, which could be recommendations, house reviews or new ads. Card-Based messages use Carousel text to showcase a number of projects in a single send, allowing the customer to arrange a viewing according to their location.
• Chat Tag - This segments customers into categories so no potential interest is missed. The admin knows which customer is in each segment to facilitate smooth communication. The brand can specify tags such as Visit a Show House, Loan Application, Detached House Project or Reservation Fee Received. Notes can be added for each customer. For a customer who has previously registered or made enquiries, if the admin makes a note of the customer's preferences, other projects can be offered which match them. Chats on LINE OA between the brand and the customer give customers the feeling of a direct connection with the brand. They are happy to talk, because the customer is already regularly using LINE to communicate.
It is also possible to talk about the Chat Tag as a form of Personalized Marketing, because it is useful in broadcasting content matching the preferences of each segment. It also informs content presentation plans. Crucially, exclusive privileges hit their targets, such as privileges for a condo for which a show condo has previously been viewed.
• Rich Menu - Designing a Rich Menu is also important, because the brand can design it to cover every conceivable customer need, such as registration, enquiries, promotions or financing advice. The brand can add reactions to various button presses for an immediate response. For instance, if a customer taps on a particular project, an Auto Response is displayed as a Rich Message displaying images of other projects, for the customer to select another interesting project. This will then give information on the project and a link to the website registration page.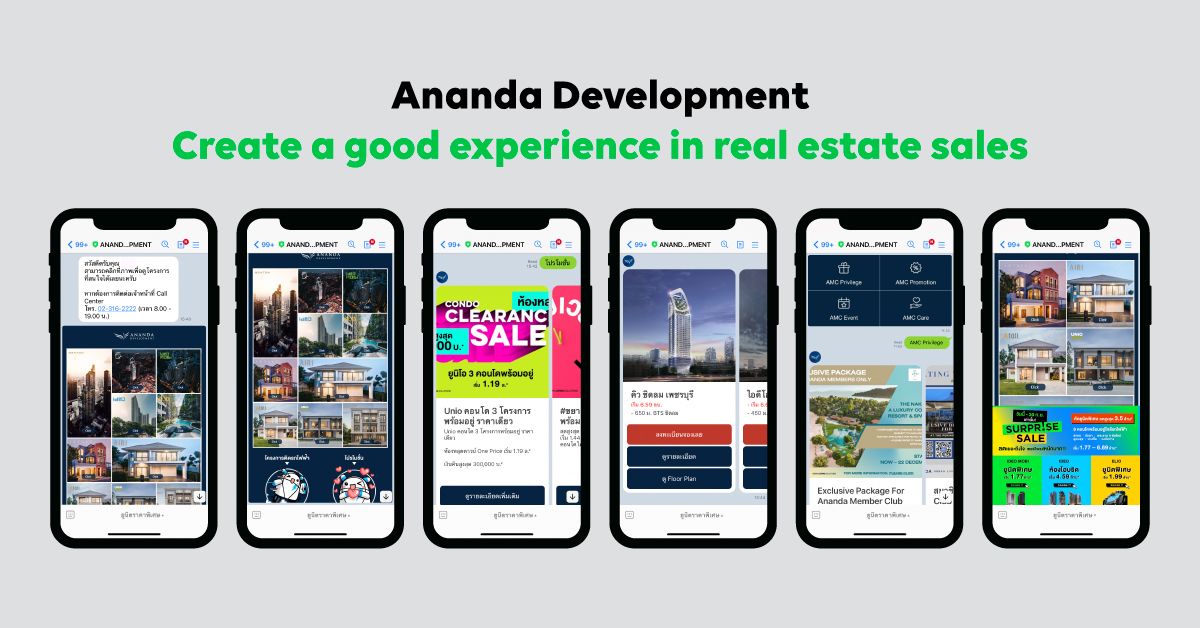 One brand using LINE OA to boost sales opportunities aligned with transformed consumer behaviour and catering to existing demand is Ananda Development. They have kept up a continuous stream of project promotions and sent promotion alerts to followers so they didn't miss information about their privileges. Followers can also chat 1 on 1 as if they had a personal assistant, giving them an Exclusive feeling of enjoying an improved experience from the brand. Ananda Development's content is also designed for a range of delivery channels to stimulate the rate of engagement.
LINE OA can also be adapted to a variety of other purposes suitable for making sales during the pandemic. For instance, a house tour can be done by video or the In-LINE LIVE VIEWER, taking the customer to view all around a new project without having to travel there. If the customer wants to visit another zone of the property or has any questions, they can ask the brand immediately. Just this is an impressive amount of convenience for the customer.
After-sales service: The winning point of real estate business
LINE OA is not just a communication channel for the initiation period, or to close sales. It can also be a channel for the brand to conduct after-sales service. If the after-sales service encountered by the customer is responsive, it greatly increases customer satisfaction. The brand can use features on LINE OA to upgrade customer care service as follows:
24-hour contact channel to inform of issues, give praise or criticize, or request various kinds of assistance

Condos with communal spaces such as meeting rooms or recreation facilities can operate a reservation service on LINE OA

Channel of exclusive privileges for homeowners

Inform opening hours of the Project Office at each project

General information service

List of emergency numbers

Verification of mail-drop service for condos
All of these items make customers aware of your attention, to give them the reassurance and confidence required by modern lifestyles.
Good offers and accessible services on LINE OA
Amid fierce competition in the real estate market, having an effective assistant for getting to know the customer, making an offer, offering promotions, giving advice and ultimately providing customer care, is invaluable for robust future development. Customers want a good experience in every aspect and at every time of their lives. LINE is the most suitable home to drive business growth in the digital world, and your business can become a long-term leader in residential property which is cherished by its customers.