Introduction
For over 128 years, having been standing by the people of Thailand, Esso (Thailand) Public Company Limited, the world's leading energy company, has been committed to developing all aspects of its businesses continuously, whether it is refining business, distribution, or petrochemical business group, to bring good quality of life to consumers through excellent products and services such as fuel oil produced from international-standard refineries and services of more than 730 modernized gas stations nationwide (data as of the end of December 2021).
To this day, Esso continues to drive business with a complete vision, aiming to provide the best customer experience. It has collaborated with many partners such as Coffee Journey, Starbucks, KFC, Burger King, McDonald's, Lotus, and Family Mart, as well as expanding into online platforms to increase access and expand services to meet all customer needs.
Create a superior experience with LINE Ecosystem
Since 2017, Esso has implemented LINE Esso Smiles Connect, using the LINE Official Account (OA) as an essential tool for connecting with customers. It is also linked with the CRM system to make it more convenient for customers to receive information and various privileges such as checking membership points, refueling history, or redeeming rewards.
Esso's primary goals are to increase the number of subscribers and promote awareness of its membership benefits through the LINE database comprising more than 50 million people nationwide. LINE Ads has become one of the key strategies they use to meet the needs for product communications, marketing campaigns, increasing Esso Thailand LINE Official Account followers, and building a comprehensive relationship with customers. Such a well-rounded approach will eventually increase the number of customers coming to their gas stations.
Moving forward to grow the business with LINE Ads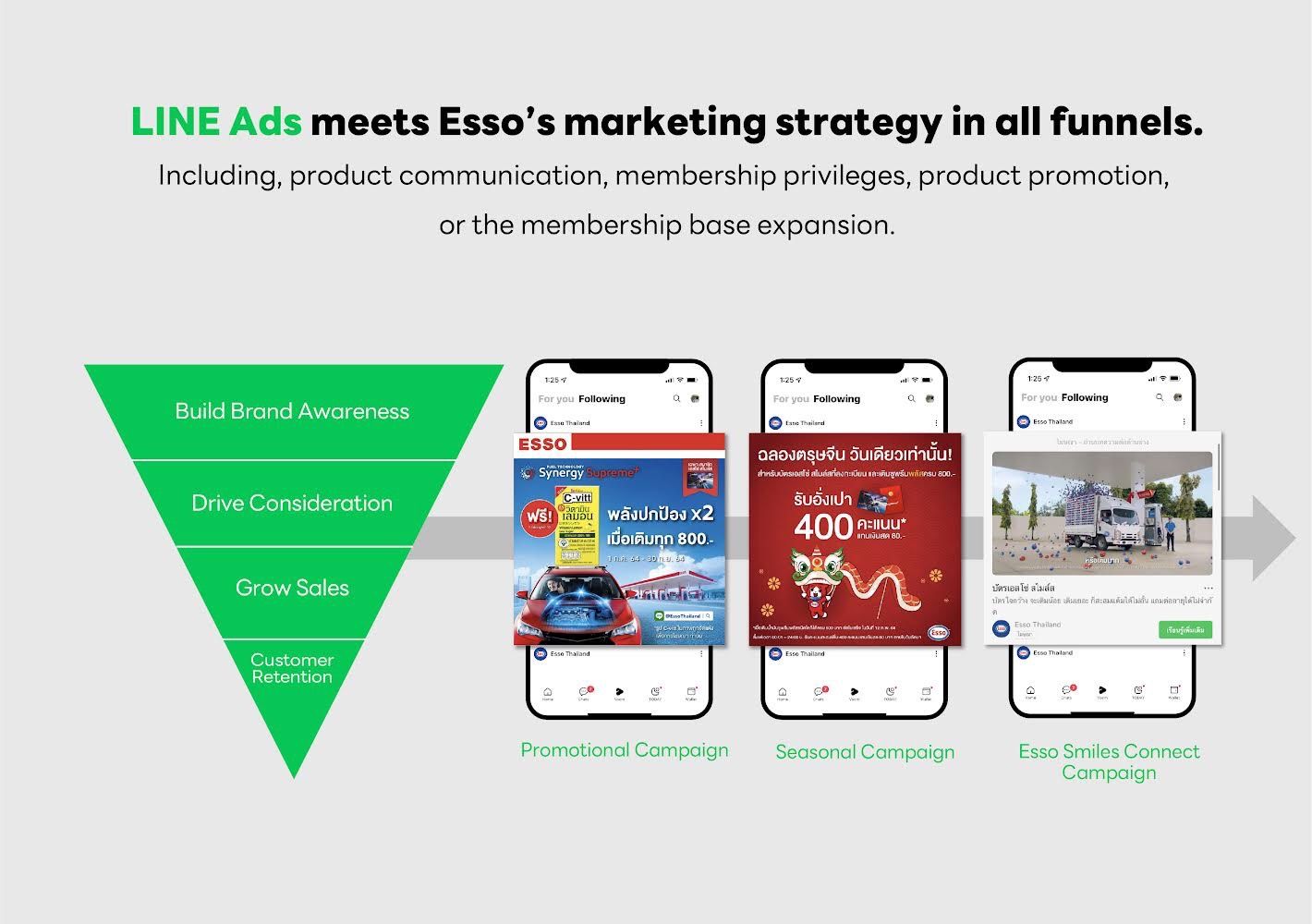 Based on those goals, Esso has designed two major marketing campaigns:
1) The goal for product communication and promotional activities: This marketing campaign aims at providing product information, member privileges, and promotions. An example of their product marketing campaigns is "C-Vitt – Fill Supreme Plus, get Protect x2". The campaign message emphasizes the worthiness of refueling with Esso gasoline, which offers double protection – protecting the body with vitamin C and keeping the engine clean with an Esso product.
To meet this goal, Esso has used LINE Ads to reach a group of customers who love to travel. They set 'Website Visit' as their advertisement objective, which is meant to increase website traffic. This approach also increases the chance of reaching the target group with promotional messages.
In addition, Esso purchases advertisements with a set objective of 'Video View' to increase campaign awareness.
More importantly, in terms of campaign optimization, Esso also focuses on campaign content packaged as Seasonal Promotion. For example, they launched a marketing campaign during the Chinese New Year celebration, giving out red packets to appeal to the target group that is likely to travel or have activities during the festive season.
2). The goal for customer base expansions and member relations: To promote its LINE Official Account – Esso Smiles Connect; the company has used LINE Ads to reach the target audiences who like to travel. The advertisement aims to invite users to increase card linkage and website traffic through the 'Website Visit' and 'Video View' campaigns. They also run re-targeting advertising campaigns to reach those who have clicked the content or watched the video.
Additionally, Esso can reach new audiences by using 'Lookalike' targeting to reach audiences who similar to Esso's LINE Official Account followers.

The outcome and the growth gained from using LINE Ecosystem
Consecutive periods of campaign running combined with attractive promotions and clear call-to-action bring Esso a better campaign performance than the overall industry average with a lower Cost-Per-Click rate.
By implementing LINE Ads, Esso has achieved both facets of its goals: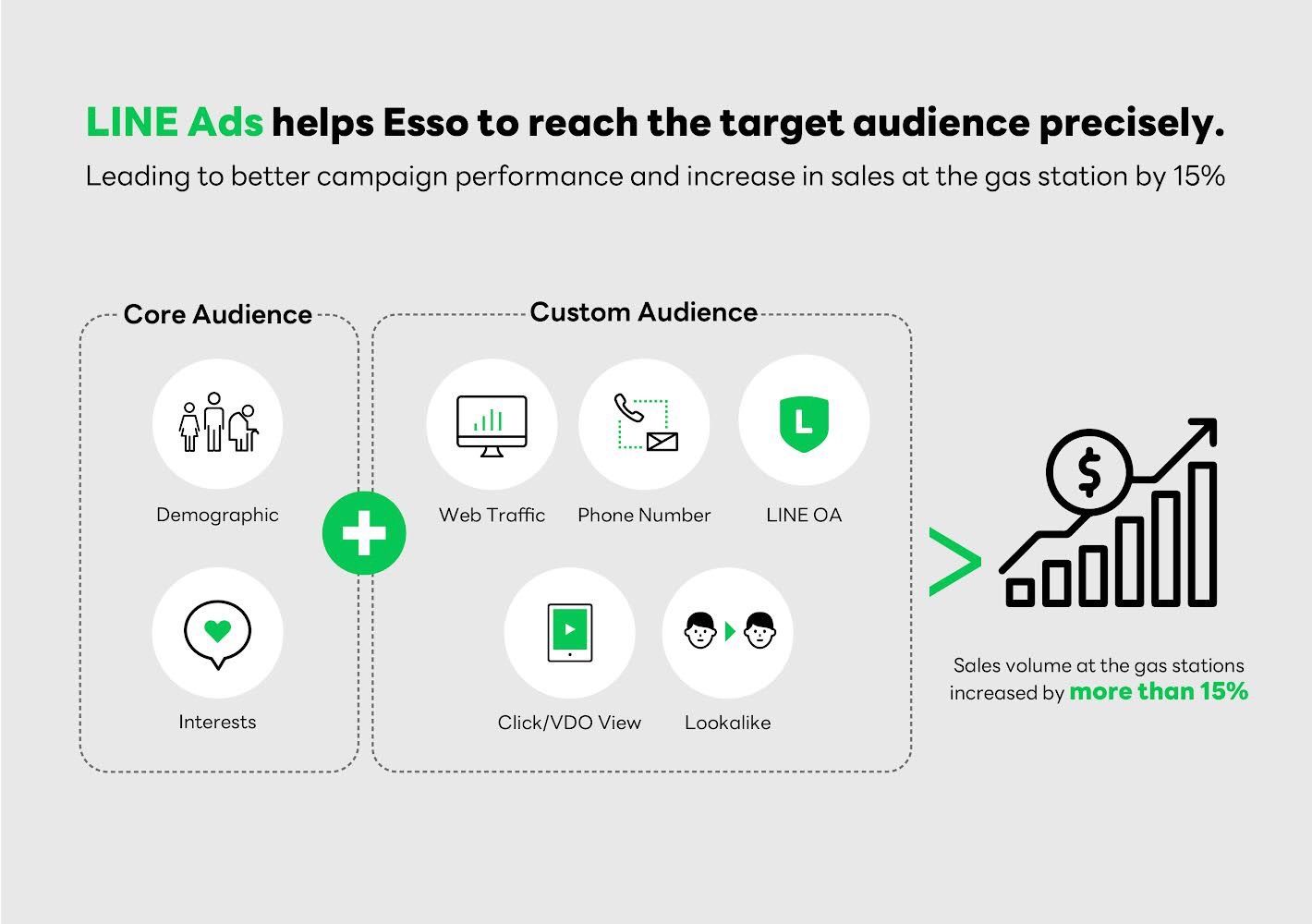 1). The goal for product communication and promotional activities: By running promotional campaigns on LINE Ads, Esso was able to reach a target audience of up to 5 million people and achieve a 15% increase in refueling volume from the C-Vitt campaign, Fill Supreme Plus, get Protect x2.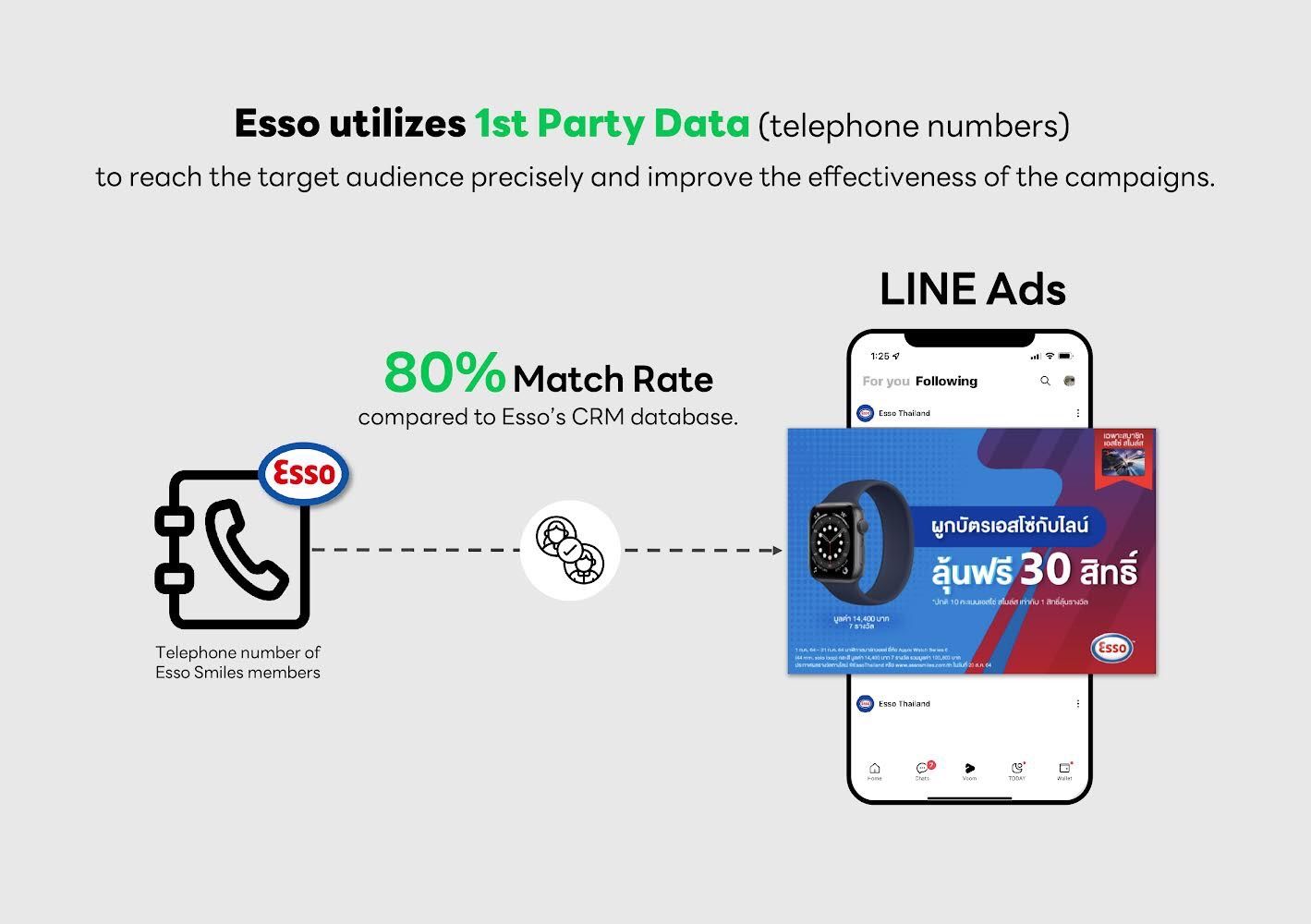 2). The goal for customer base expansions and member relations: Esso has used LINE Ads to drive customers to link their membership cards to Esso Smiles Connect. Customers can link their membership with Esso Smiles by simply clicking on ads. The system will automatically lead customers to the account binding page and immediately link their membership with it.
As a result of using LINE Ads, the number of membership binding with LINE Esso Smiles Connect increased by 17%. The point redemption and emergency services used also increased by 5% in 2021. When the company compared customer data on LINE with Esso's own CRM data, it found a match rate of up to 80%, reflecting that LINE users were of higher quality than any other platforms.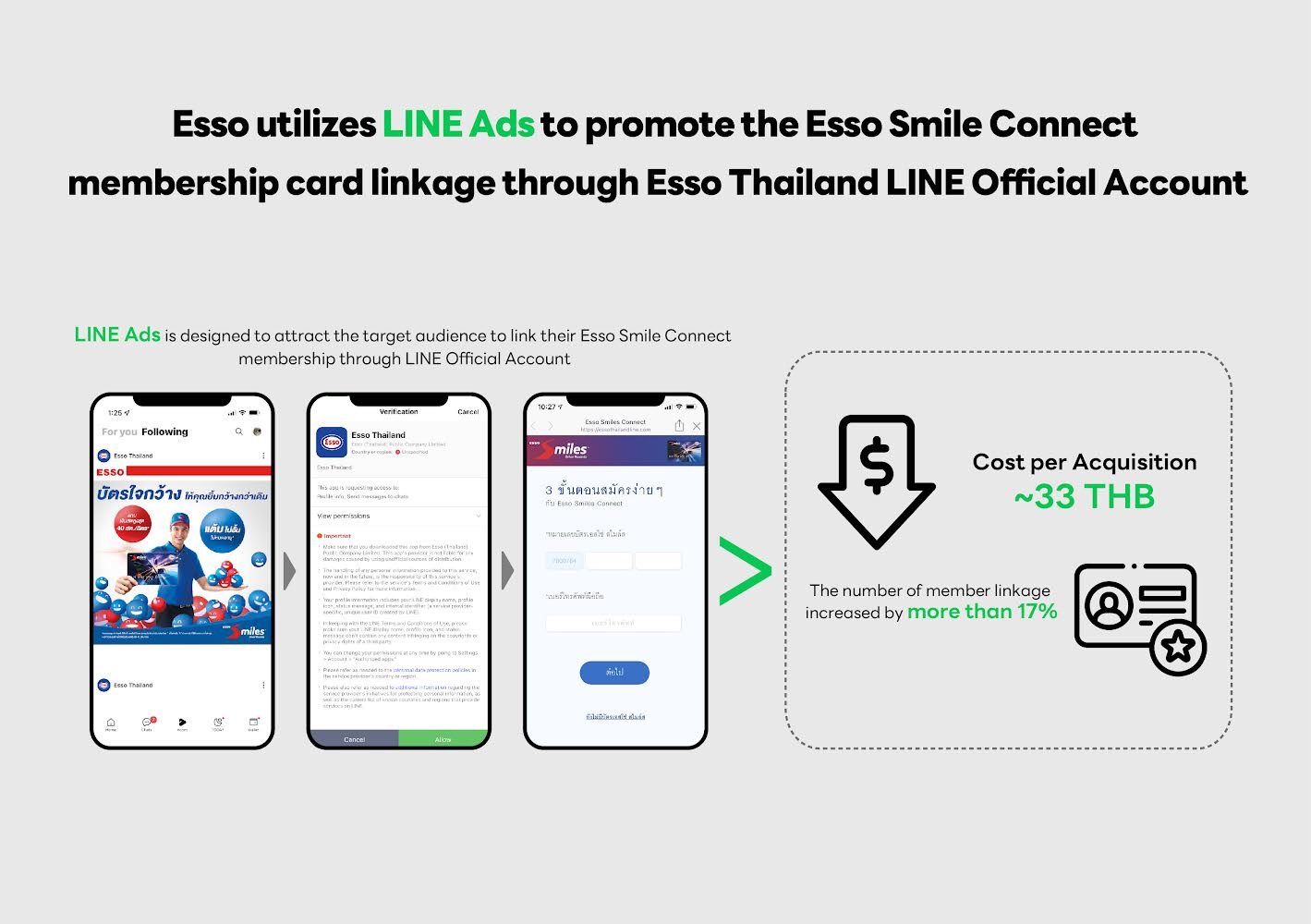 Decoding Esso's Success on LINE Ecosystem
The results of using the full-funnel LINE Ecosystem that Esso has achieved reflect the potentiality of LINE Ads in meeting a wide range of marketing needs. Through ads displayed on LINE's Premium Placement, brands can reach their target audience precisely.
The factors that make Esso successful include:
1) The ability to determine the target audience for an advertisement: LINE Ads helps Esso reach its target audience effectively for that it enables brands to choose a specific target audience. As a result, the ads reach the target audience more accurately, whether it is the target group shared from the LINE Official Account, the brand's existing data (First Party Data), or those who visited the website, watched a video, or clicked on an ad. The performance yields a lower CPC (Cost Per Click) by 10% and a higher CTR (Click Through Rate) than the industry average by 50%.
Additionally, LINE Ads helps expand the new customer base by using Lookalike Audience targeting in the advertisement to reach customers similar to Esso's existing customer base. All these tactics lowered the advertising cost significantly when it is compared to those of other platforms.
2). Continuity of campaigning: Esso emphasizes always-on campaigning and develops campaigns to be attractive to target groups. For instance, it launched seasonal promotions like the Chinese New Year Celebration, giving out red packets to those traveling during the festive time, or the Esso Smiles Connect campaign that helped Esso achieve its goals.
It can be deduced that Esso's success is a result of their customer insights. Magnified by LINE Ecosystem, Esso can expand its businesses seamlessly, reinforcing its leadership in growth-oriented marketing based on the most crucial marketing strategy – customer satisfaction across all journeys.