Nowadays retail businesses do not compete on a single channel anymore. It has become a battle of an omnichannel in which technology plays a crucial role in creating a seamless shopping experience to serve each individual need. The Mall Group, Thailand's leader in retail business, is ensuring customers retention and engagement while also launching a strategy to acquire new customers and collect customer data to 'identify' and 'understand' customers' need better.
On the mission of reaching out to the right customers, The Mall Group has focused on suitable promotional offers in a formulated strategy to acquire new customers and gain a customer's insight to comprehend what they acquire and expect.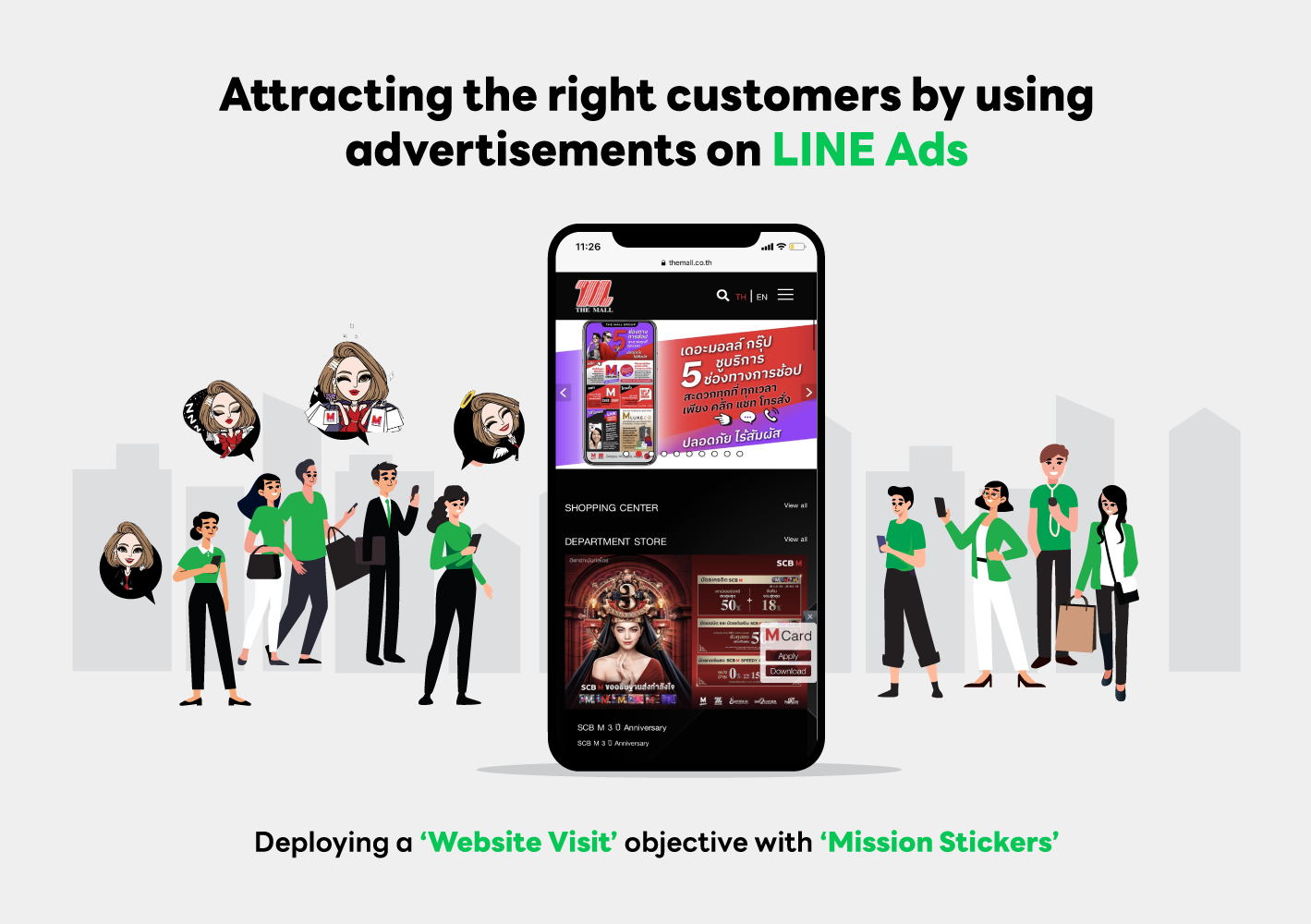 LINE Ads- the essential business solution
The Mall Group chooses LINE Ads as the primary solution for accessing over 50 million LINE users in Thailand. During the implementation period, they have divided the marketing execution plan into two phases:
Phase 1: Attracting the right customers by using advertisements on LINE Ads to drive websites visits
The Mall Group deployed an advertising campaign with a 'website visit' objective aiming to drive new customers to visit their LINE Official Account. In addition, they use collected data from LINE Ads to create custom audiences and add lookalike audiences with a specific interest. For example, they targeted a group of females aged 25 and above who tended to have a shopping behaviour. Running such a campaign provided a highly satisfying result. Their advertising campaign and performance, Cost Per Click or CPC, was 60-70% lower than the average retail industry.
Phase 2: Implementing LINE Ads together with Mission stickers.
After having succeeded in Phase 1, The Mall Group moved forward with a new advertising campaign with 'Gain Friends' objective, to expand their customer base within LINE's ecosystem. They also used Mission Stickers to help collecting customer data. By focusing on target groups that used to interact with their advertisement, they have continuously gained new friends successfully. As a result, their Cost Per Friend (CPF) was 75% lower than the average figure in the retail industry.
Success Outcomes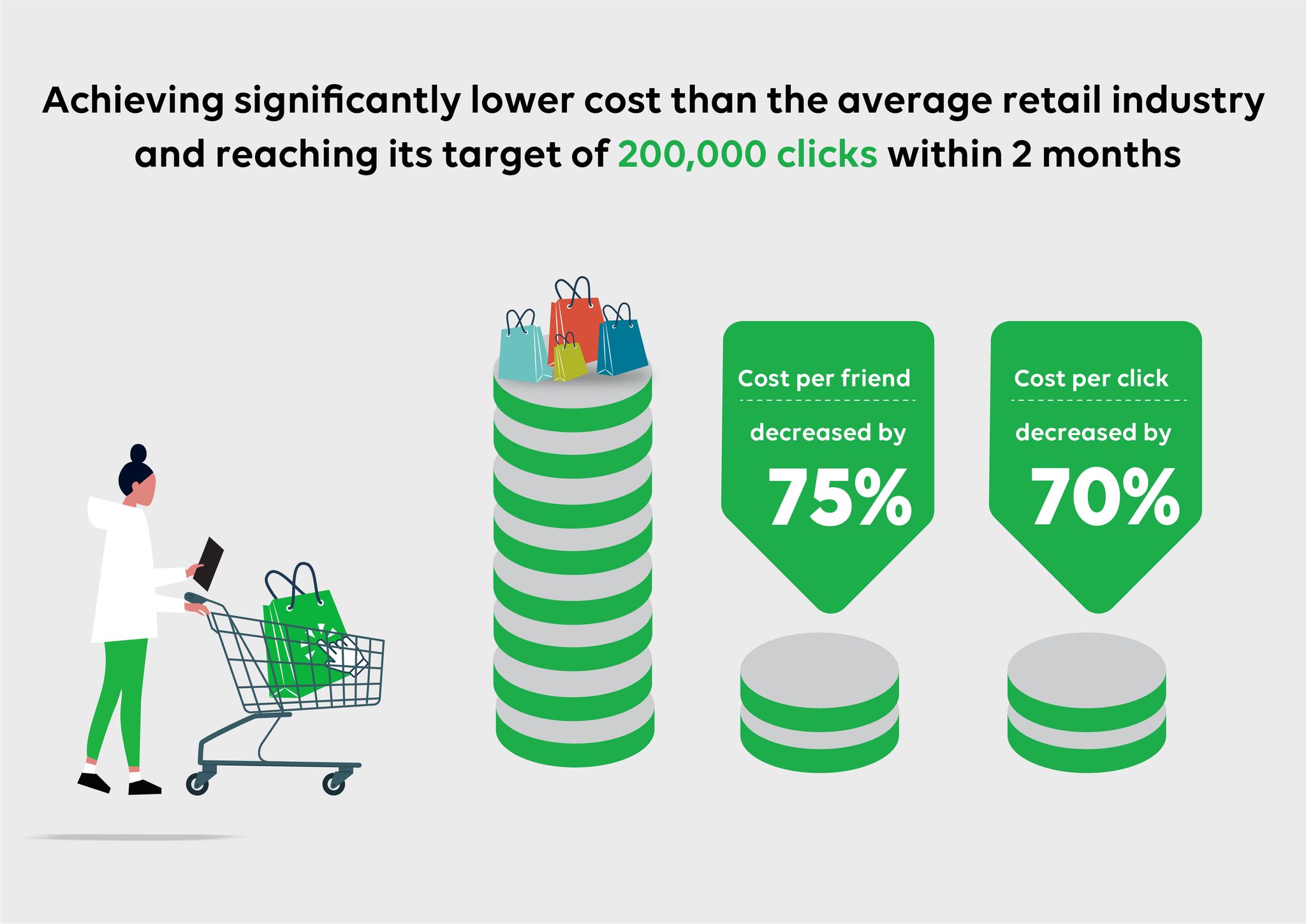 Within two months, The Mall Group has reached its target of 200,000 clicks at a significantly lower cost than the average benchmark. Furthermore, their Cost Per Friend (CPF) was decreased by 75%. The Cost Per Click (CPC) was 70% cheaper than the average cost of advertising campaigns launched by other major players within the retail industry.
The three key success factors
1. Combining the power of Mission stickers with LINE Ads under LINE's ecosystem.
The systematic combination creates a new synergy and higher efficiency than using the tools as silos. In addition to this, The Mall Group is the first organisation to utilise such innovative strategy.
2. Effectively managing the 90- day sticker download period to optimise results.
In addition to the general running of their advertising campaign, The Mall Group used LINE Ads and deployed Mission Stickers campaign to maintain an average daily mission on sticker downloading to create a continuous trend throughout the 90 days. This tactic not only creates an increase in awareness but also reduces the cost per click.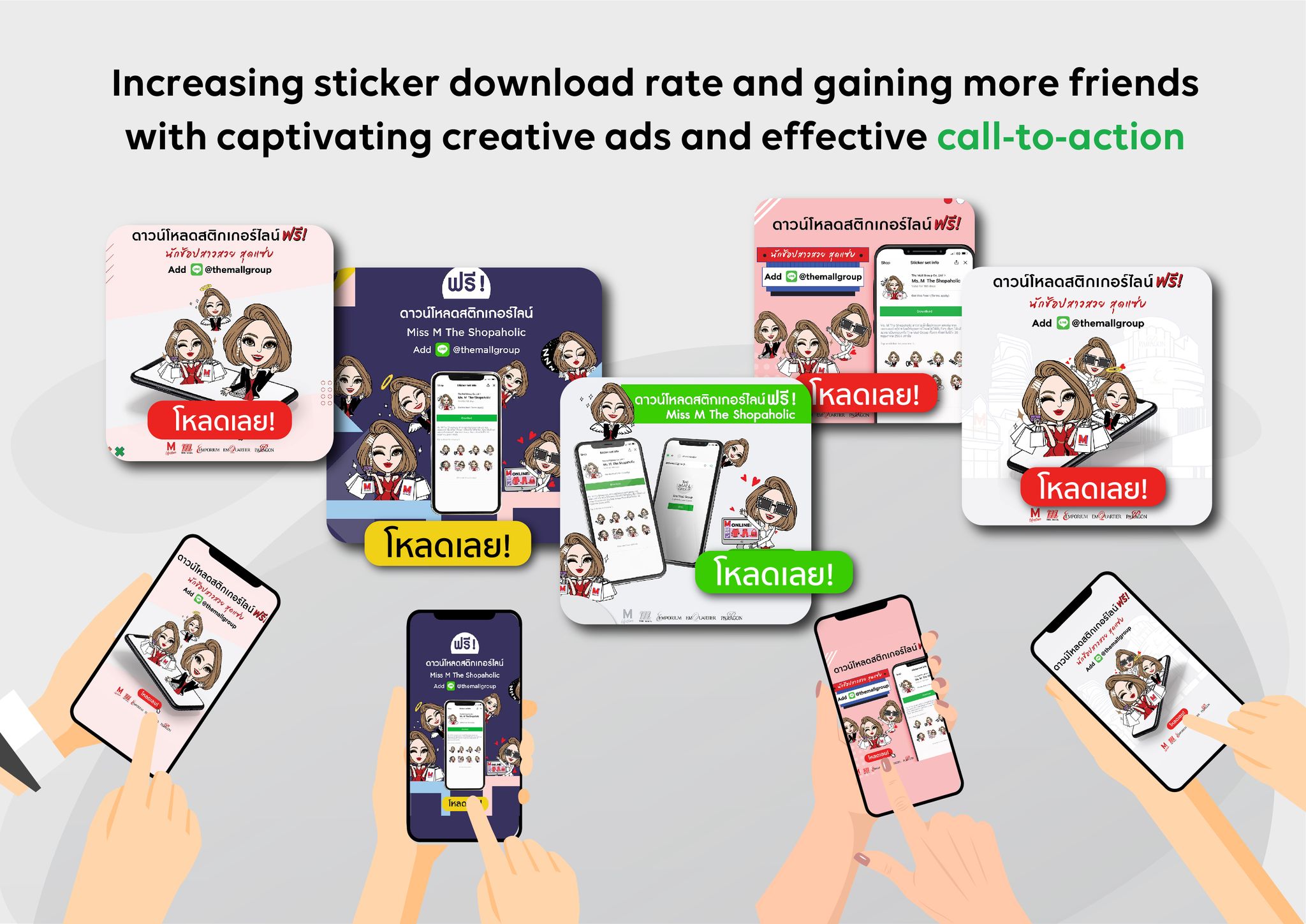 3. Attracting customers by presenting captivating creatives and offers
On top of using Mission Sticker to draw attention, The Mall Group uses captivating creative ads that attract to yield high effectiveness of Call-To-Action (CTA). Moreover, The Mall Group has created several advertisements in each campaign to do A/B testing and select the artworks that potentially have more engagement for the rest of the campaign's period.
By implementing LINE Ads as a comprehensive online strategy, The Mall Group is able to identify the right customers with greater accuracy, making them an industry leader with outstanding performance comparing to other competitors in retailing and e-commerce businesses.
More importantly, the solution enables them to reach their business goals by acquiring the first party data and increasing customer database. The outstanding customer-centric campaign strategy also helps them overcome the challenging of digital disruption age.