The main problem of merchants who are running the online advertisement is that the advertisement was spending but cannot close the sale. Then, the first thing to check and ask yourself is that if we send the ads to the right target audience, are they the target audience of our product or service or not. Because if you send the ads to the wrong audience, whatever you do, you will always be wrong and it doesn't matter to them at all. When we offer products to people who aren't interested, the chances of them clicking on the ads or closing the sale are less. Therefore, audience targeting is very important when running the ads. But those problems will be gone for advertisers who run ads via LINE Ads because you can scope the target by two audience types which cover all sale funnels.
1. Core Audience - it is a broad target audience focus or focus on the type of people who are most likely to buy a particular product or use a particular service. Which you can define from location (region, province, district), gender, age range, interest, mobile operating system, this is a basis of target audience selection.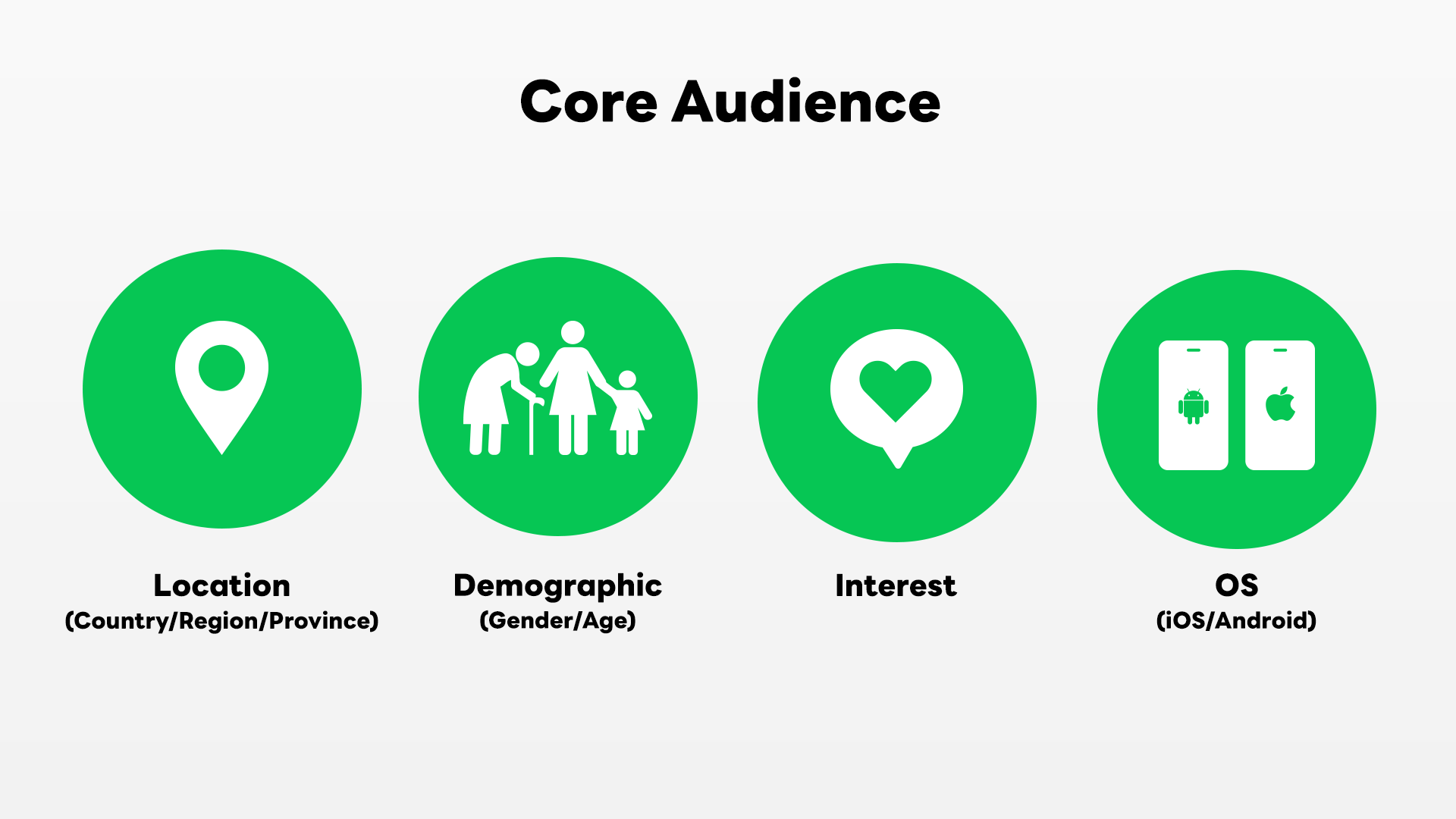 2. Custom Audience - it is a narrower targeting option than core audience, used in cases where more precise and detailed targeting is required. We can use all existing databases to expand to find new target audiences, to find the right audience and have more chances to buy our products. With these databases, merchants who run advertisements already, I believe that there must be certain things such as phone numbers, email addresses, information from LINE Official Account, etc.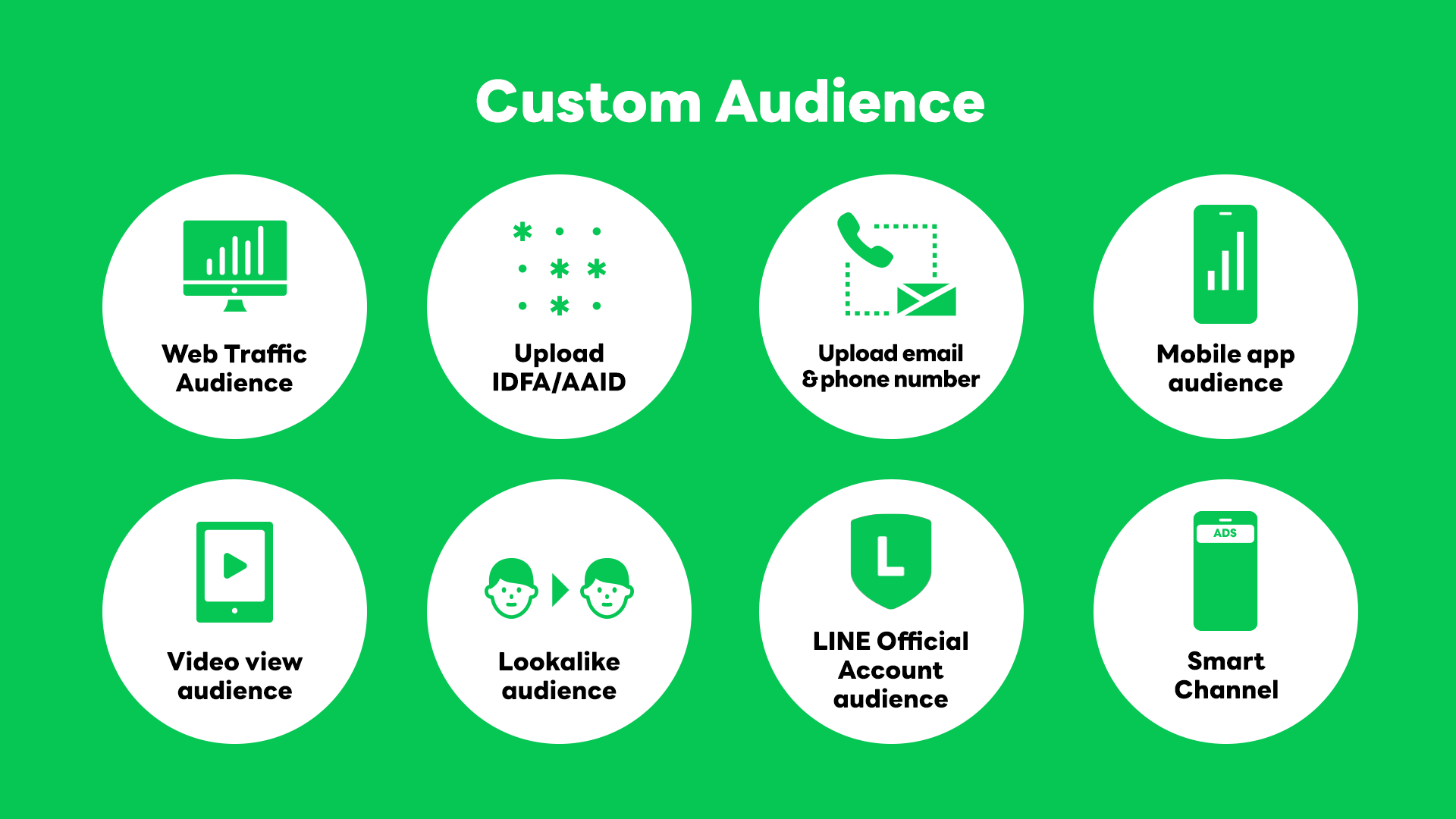 In addition, to anyone who runs the ads on LINE Ads already, all the information from ad campaigns can be returned to custom audiences as well. It's not really useless.
And on this day, LINE Ads has launched a new target audience that will meet everyone's needs especially, all the merchants to help everyone run the ads on LINE to meet the real customers, that is, "Image Click Audience" is a target group made up of people who clicks on ads in image format only, so everyone who clicks on your ads can be targeted to lookalike or retarget further. Sounds interesting? So, why not start using it?
Here's a step-by-step guide on how to create a click image audience based on people who click on your photos.
1. Click on "3 dashes" in the top left-hand corner, then select "Target Audience"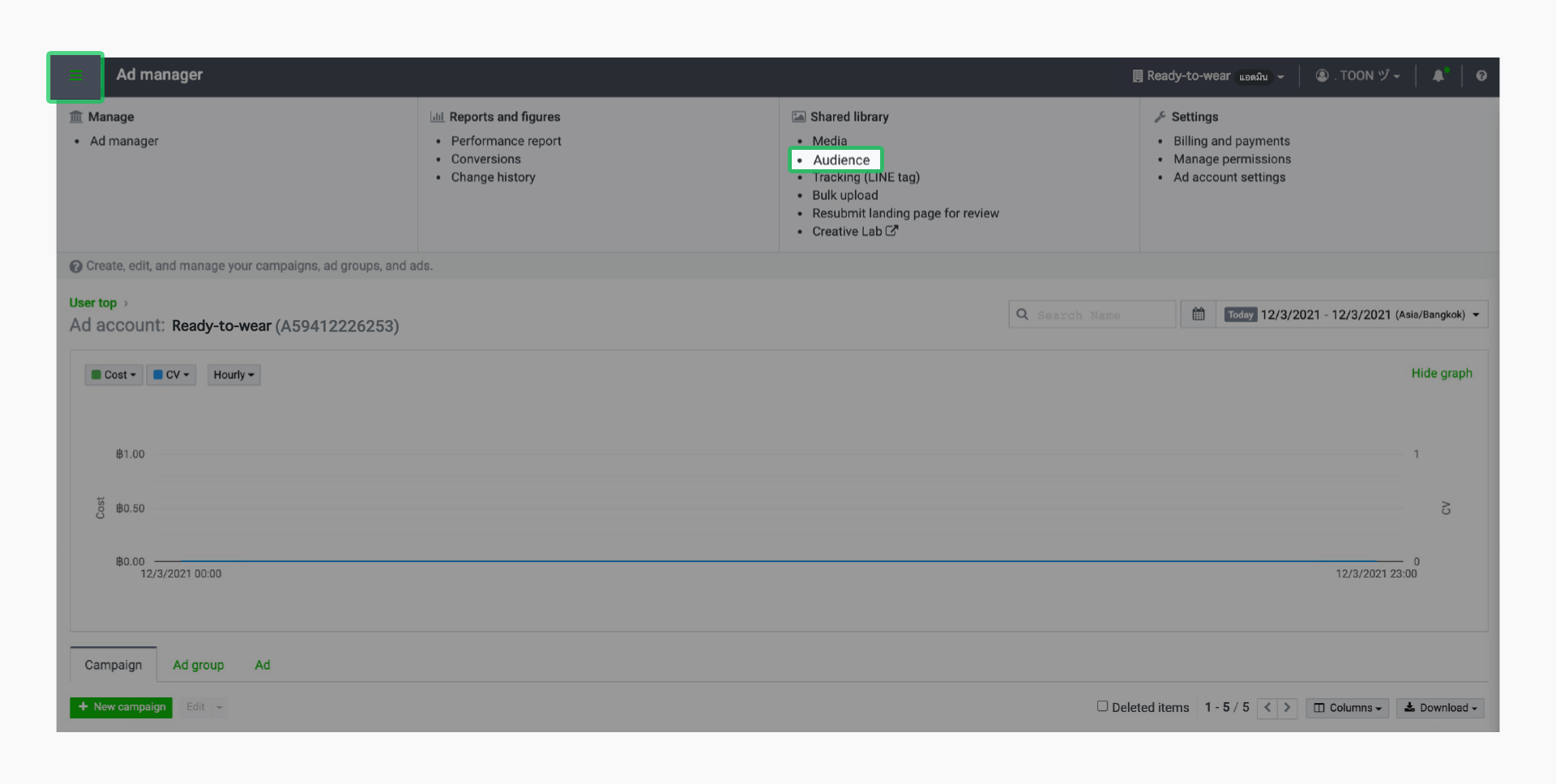 2. Click "Create Audience" and select "Image Click Audience", this audience supports all advertising objectives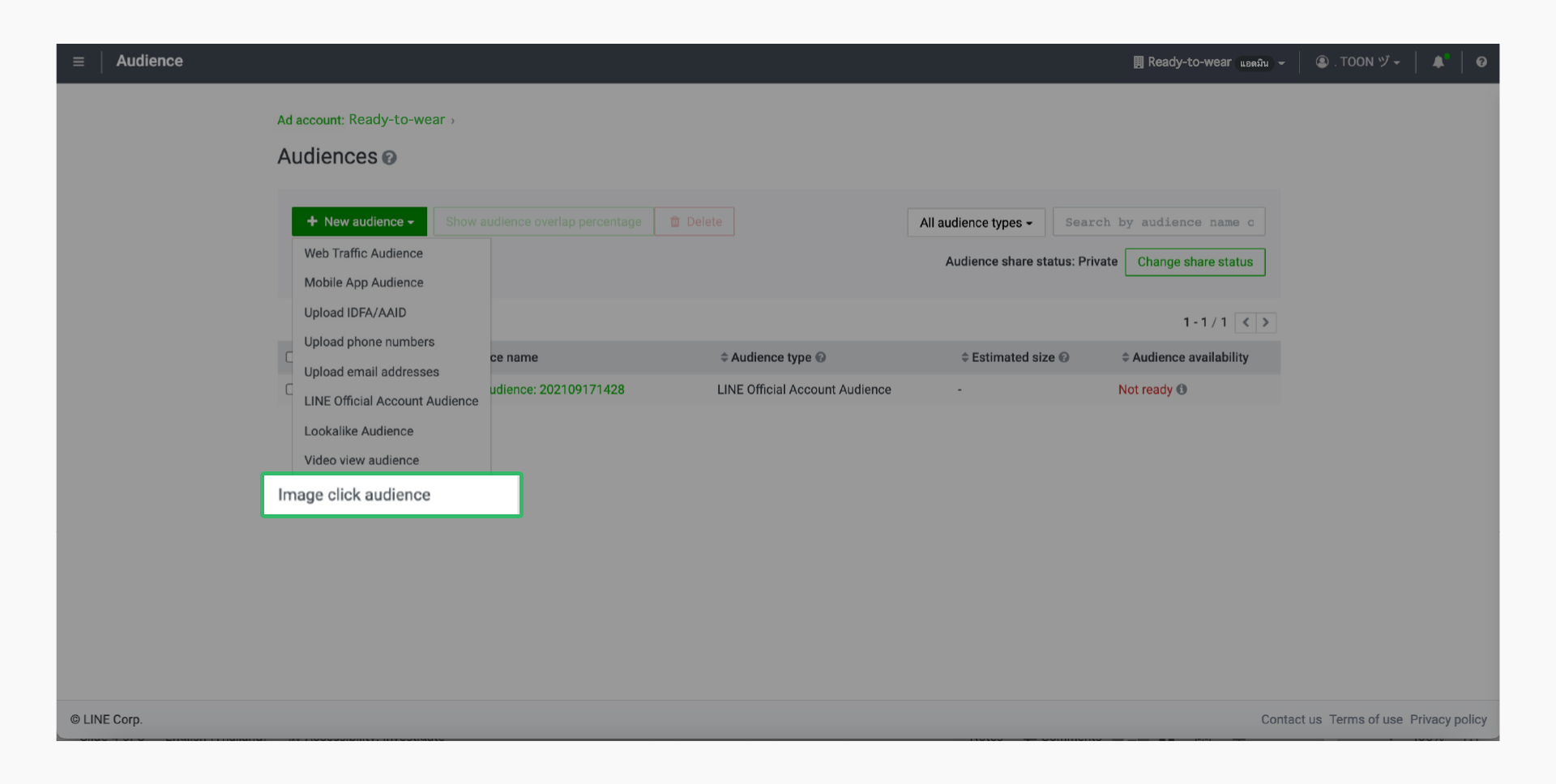 3. Creating target audience who click on images based on "Campaign ID", which only supports campaigns with "image creative" only (images, small image, carousels)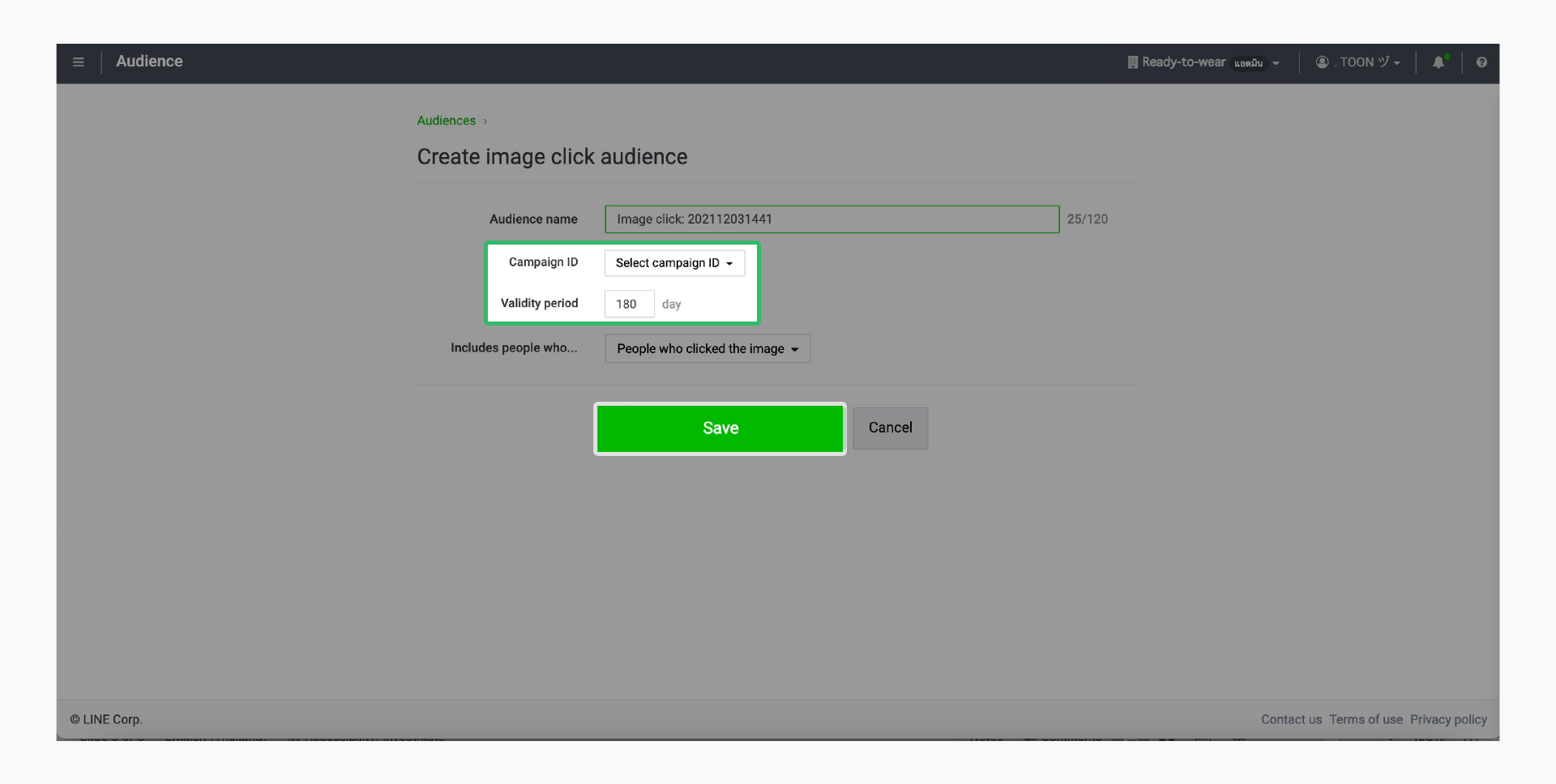 4. With more than "100 clicks" on the ad per campaign, the target audience status will be changed to "Ready"
5. The duration of collect information about people who have clicked on an ad image is "Maximum 180 days"
6. If you choose an ID campaign that does not have an ad image, the system will get an "Error Alert"
7. Easy to build without having to attach a LINE Tag
Of course, we're not just introducing new features, but today we've got some great techniques for bringing the click image audience, adapting it to suit each business.
Let's start with the most important step to know how to plan the ad image in accordance with the buying behavior of the customer from making them know us, knowing what advantages we have, our products or services to help solve problems or make them have a good life. Then end it with a promotion to encourage customers to make a purchase faster because images are the most important element of advertising. In order to make everyone understand more clearly, let's take an example of how to apply this feature to 3 businesses as an idea of how to use it in ad campaigns.
Food and Beverage Business
For customers who have clicked on a single-dish meal ad image, then we try to shoot a food ad image as a set of food that is more cost-effective so that customers can try other menus, encouraging them to come back to buy again, increasing their chances of ordering food the next time or we can put up or shoot an ad image as a coupon for a set meal discount when ordering delivery during lunch time so that customers can decide to order immediately.
Fashion Business
For customers who clicked on the image of a fashion bag ad but didn't buy it, we shot an ad image that prompted customers to make a faster purchase to the person who clicked such as free shipping on today's purchases only, 50% off on purchases within 3 days only, or giving customers an idea that if they buy our product, which dress should they use with it.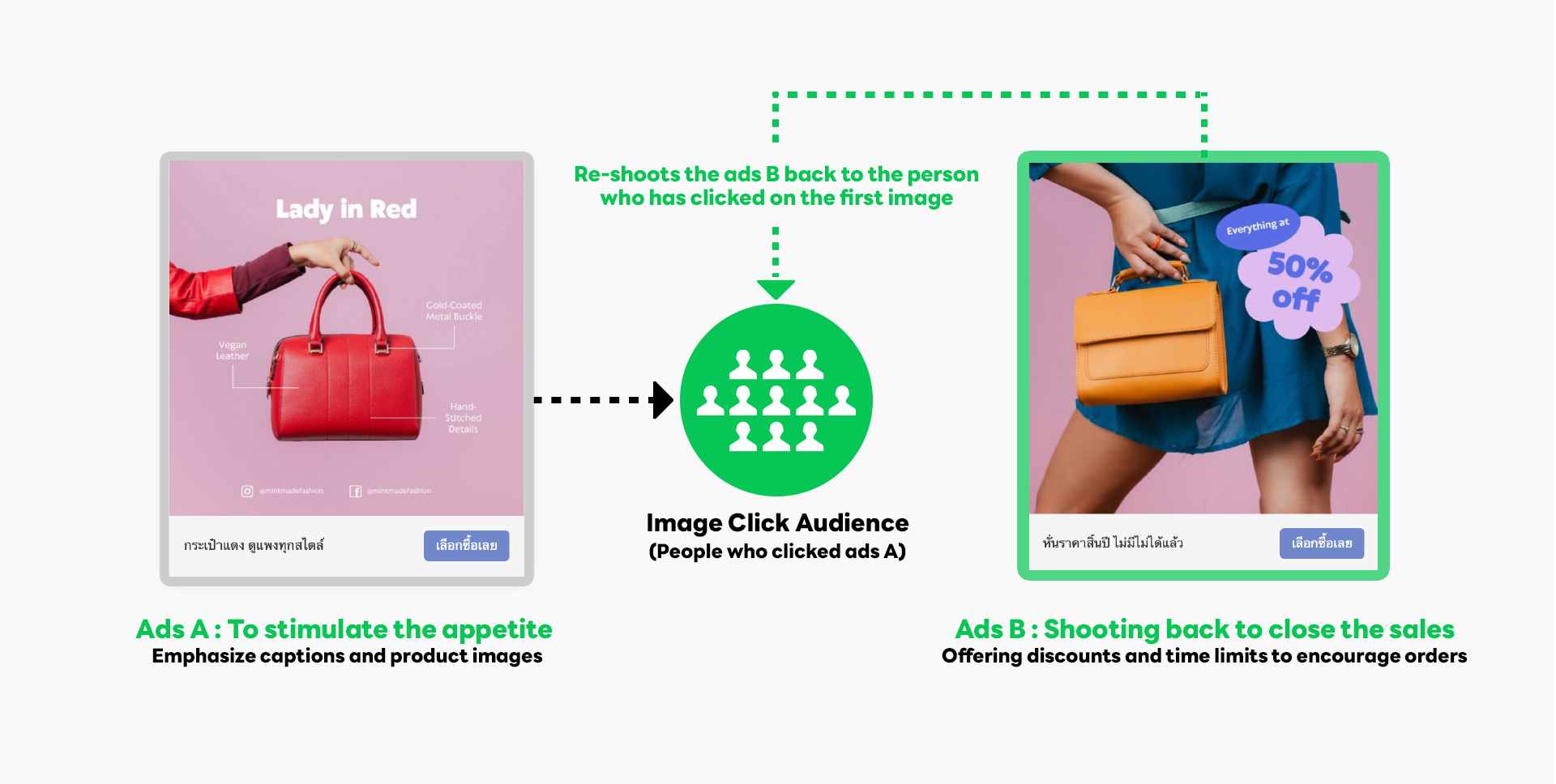 Beauty Business
For customers who click on the photo of the whitening cream ad but haven't bought it yet. We try to shoot an ad image that allows them to see more the experience of the person who uses the real product to the person who clicked it. For example, use a picture of customer reviews to see the cream and the results after use in order to make them trust the product and want to try it because they see that it's good to use. Then use promotional photos to find people who clicked on product review ads to encourage faster purchasing decisions.
Once we have created an interesting ad like this! To attract more people to be interested in the product and click more. We can bring the audience who clicked on these ad images to create a "Click Image Audience". Once created, don't forget to adapt it to create a "Lookalike Audience" to follow them back as a customer. Let start advertising via LINE Ads by click admanager.line.biz
For more information, please contact:
LINE: @digitallab
How to start advertise on LINE: https://lin.ee/IgizNcM/wega​